Natural Lift Facial Massage/Facial Rejuvenation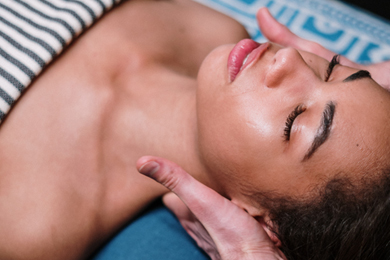 This massage is a blend of Ayurveda- Indian face massage and Anma – the traditional system of Japanese facial massage, it also incorporates complementary techniques from Acupressure and Facial Reflexology.
Natural Lift Facial Massage involves a sequence of massage techniques which act as natural facelift with no need for surgery, helping my patients to feel and look younger.
The facial massage has no side effects and is a very effective method of facial care.
Natural Lift Facial Massage can help to:
Improve skin suppleness
Reduce and release any muscle tension in the face and jaw
Reduce expression lines and wrinkles
Tone and help tighten the skin and underlying muscles
Improve lymphatic flow, transporting bacteria and toxins away from skin cells
Strengthen and tone muscles, helping prevent sagging skin and fine lines
Repair and balance the condition of the skin, minimising the ageing process
This treatment lasts 40 minutes and is very relaxing to the whole body.
The number of the treatments required is very individual and varies from person to person. This to be discussed at the time of the initial consultation.
The length of the treatment is 40 minutes.
Practitioners Diploma in Natural Lift Facial Massage / Facial Rejuvenation
Opening Hours
Healthy Roots in Aylesbury, Buckinghamshire
Monday 10am - 8pm
Tuesday 10am - 8pm
Wednesday 10am - 8pm
Thursday 10am - 8pm
Friday 10am - 5pm
Saturday CLOSED
Sunday 8am – 4pm