Healthy Roots Acupuncture, Massage and Reflexology in Aylesbury
Healthy Roots Acupuncture clinic was initially set up as a Multibed Community clinic in Cookham in 2014 . Now we are based at:
Healthy Roots Acupuncture, Massage and Reflexology clinic in Aylesbury, Buckinghamshire
Inna Young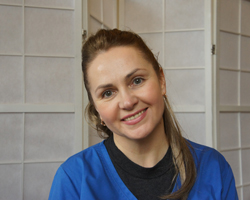 I have studied Acupuncture in one of the most respected UK based Chinese Medicine schools – The College of Integrated Chinese Medicine, and I am a proud member of British Acupuncture Council.
Prior to studying Acupuncture I had became a qualified Reflexologist.
Since 1st July 2019 I became a fully qualified and insured Holistic massage therapist with ITEC level 3 diploma. Later in a year, after further study I gained qualification in ITEC level 3 SPORTS Massage therapy.
To add more variety to the cosmetic therapies in Healthy Roots clinic I have also gained Practitioners Diploma in Natural Lift Facial Massage/Facial Rejuvenation therapy. My patients find this particular therapy extremely relaxing with fantastic beauty effects and benefits.
2020 was a challenging year for all of us. I felt a little lost at the start, but later realised this can be a great opportunity to learn new skills. After some hard work, I am now qualified in SKINCARE, which I am very passionate about. Completing VTCT Level 2 in Facial massage and Skincare along with learning 40% Glycolic Acid Skin Peel, gave me an opportunity to offer Skincare services. Since April 2021 I am happy to introduce Facial treatments and Glycolic Skin Peel treatment in my clinic. I am a proud member of The British Association of Beauty Therapy and Cosmetology.
The more I learnt the more I became interested in other aspects of Chinese Medicine. Understanding Acupuncture has changed my view of life's values. I cherish every minute with my patients, it is amazing what change Acupuncture can make to the most common and "difficult" conditions. I am now decided to making a difference to my patients wellbeing and quality of life.
Make a difference to your life, pick up the phone and call, I am here to help you! - 07756 557 669
Healthy Roots Acupuncture Clinic Address:
Aylesbury Clinic:
9 Broughton Avenue
Aylesbury
Buckinghamshire
HP20 1NN