Collagen induction therapy (CIT) / Microneedling
As we age our skin loses its density. This leads to fine lines and wrinkles, uneven skin texture and tone. Excessive exposure to the sun and sun beds can also cause skin pigmentation.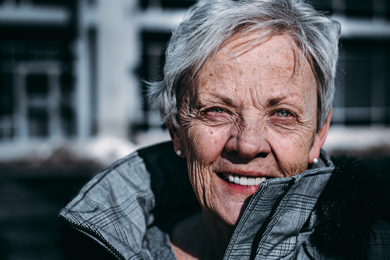 Collagen Induction Therapy or Microneedling is Innovative procedure which involves application of multiple superficial micro-traumas to the skin with tiny and sterile needles, as a result the body's self-healing wound process is triggered. The
releasing GROWTH FACTORS stimulate FIBROBLASTS creating new COLLAGEN and ELASTIN in Dermis layer of the skin. In order to carry out CIT, the practitioner can use a derma roller or Dermapen. In Healthy Roots clinic we use a Genosys Dermafix pen which provides safe and precise technique of this procedure.

Why Dermafix Pen?
VERY SAFE and HYGIENIC ! Each cartridge of needles is a single use unit and sterilized by EO gas, sealed in the sterilised blister.
MULTI EFFECTS. Number of needles per cartridge is 16, the other needling devices have 12 in general. This allows larger number of skin penetration. The needle length can be adjusted, which allows more effective and affordable treatment for a patient with a multitude of skin conditions.
MINIMAL PAIN! Hexagon shape of the needle provide minimal pricking sensation. Topical anaesthetic is optional and usually do not require.
LOW COST! Only 3-5 sessions a year required. This will depend on severity of skin damage, underlying conditions and age factor.
What can be Successfully Treated:
Hyperpigmentation;
PIH – Post Inflammatory pigmentation, this is when skin is left darkened and discoloured after the wound has healed;
Acne Scaring;
Closed acne lesions;
Rosacea;
Anti-ageing - Fine lines and wrinkles;
Stretch marks;
Hair loss;
Photographic Evidences of Microneedling Effectiveness
Acne Scar Treatment. The practitioner used CTS Serum ( Wound healing and tissue remodelling ) with Microneedling. 4 sessions of Microneedling was undertaken.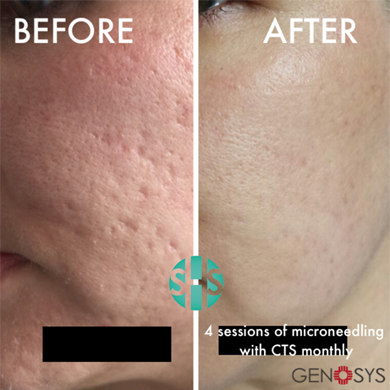 Anti-ageing Treatment - Fine lines around the eyes. The practitioner used 4 sessions of Microneedling.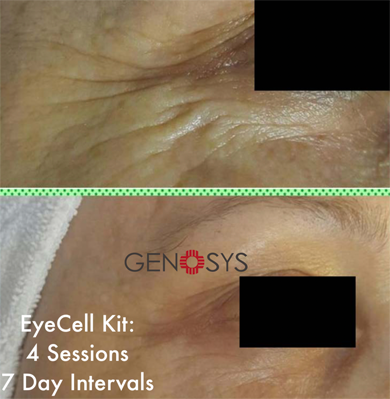 Anti-ageing Treatment - Fine lines- eyes and check areas. The practitioner used 6 sessions of Microneedling.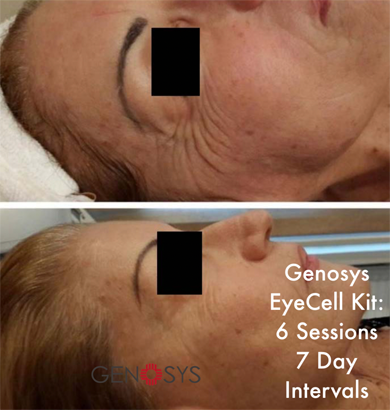 Stretch Marks Treatment - The practitioner used CTS Serum (Wound healing and tissue remodelling ) with Microneedling.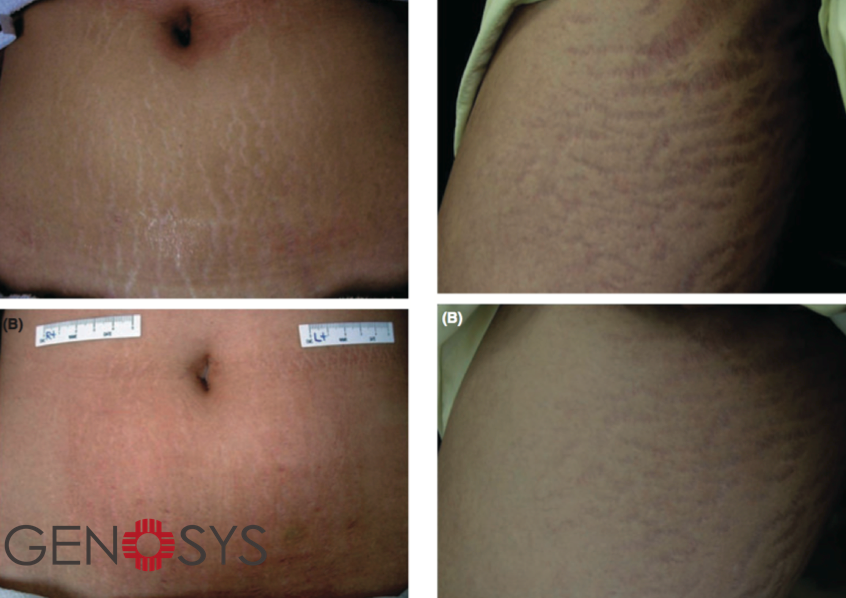 Hyperpigmentation Treatment - The practitioner used SWS Serum ( Pigmentation reduction ) with Microneedling. 3 sessions of Microneedling was undertaken.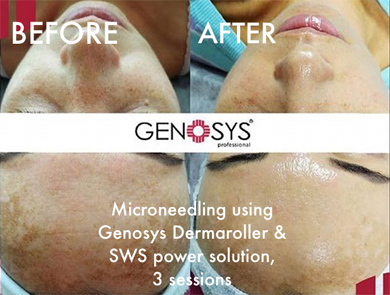 What Will Happen During The Treatment
You arrive to Healthy roots clinic with no makeup on. The hair should be pulled away from your face – use a hair clip or hair scruncy. Please make sure you don't have empty stomach and are feeling well on that day.
The practitioner will explain the procedure, its benefits, expectations and aftercare;
Your medical and health history will be questioned by the practitioner in order to identify possible contraindications to the treatment. You will need to fill in a registration form and sign the Client Consent for Microneedling form;
Before Needling the practitioner will cleanse skin thoroughly with Genosys Snow O2 cleanser and Genosys Snow booster toner.
Here the photo of "Snow O" cleanser"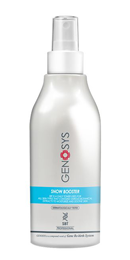 Application of the relevant Power Solution Serum. In our clinic we use the following Serums:
Anti-Ageing Formula Power Solution Serum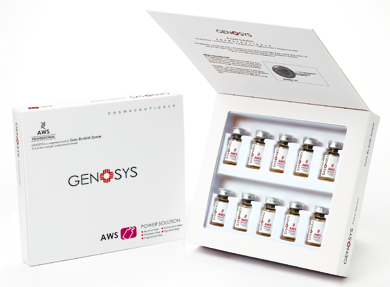 Pigmentation Reduction Formula Power Solution Serum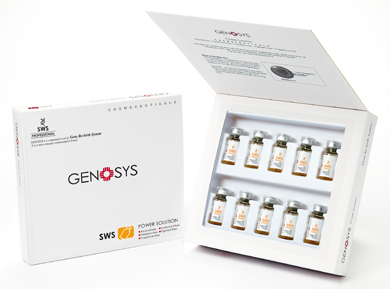 Wound healing and tissue Remodelling Formula Power Solution Serum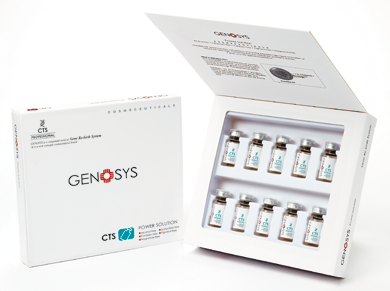 Hydrating and firming Formula Power Solution Serum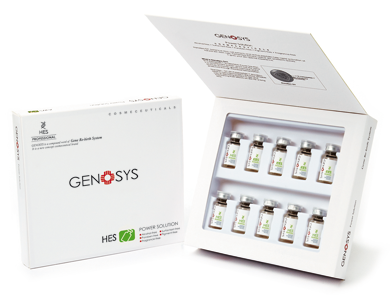 Depending on the area of the face treated the speed and depth of the needling will be carefully chosen by the practitioner.
This is the time when Genosys Dermafix Pen is used. You will sense very minor prickling of the skin. Discomfort will be minimal.
This will follow with the application of Peptide/Collagen treatment mask (10-15 minutes)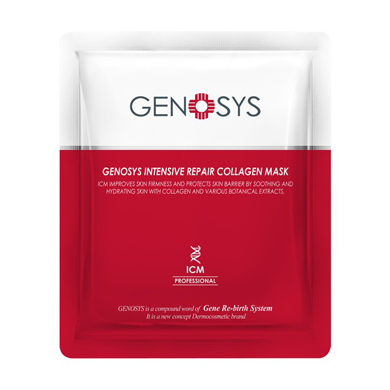 Mask will be removed and generous amount of Genosys Intensive Hydro Soothing cream and Sun Cream protection SPF40 will be applied;
Before you leave You will be provided with Aftercare kit which includes:
Hydro Genosys Intensive Hydro Soothing cream – 5ml
Genosys Multi Sun Cream SPF 40PA++ - 4ml
After the treatment your skin will be pink/red and will feel warm to the touch. Pin brisk bruising can occur. These symptoms will last from a few hours to three days. All individuals have different healing time.
Avoid:
Washing your face on the day of the treatment;
Applying skincare products (except sunscreen) and makeup on the day of the treatment unless you have been told other way;
Use of saunas, steam rooms, excessive exercise and hot bath until the redness has subsided;
In the weeks following your treatment you will start to notice changes in the texture and tone of your skin as new collagen is formed. This process takes at least 6 weeks and continues for 6 months or more to provide a natural and long-lasting enhancement. For best results we recommend a course of 3 treatments spaced out in 4 weeks intervals. A maintenance treatment every 6-8 months.
You can call us on 07756 557669 and book a free 15 minutes consultation.
Certification